Why Buy Anywhere Else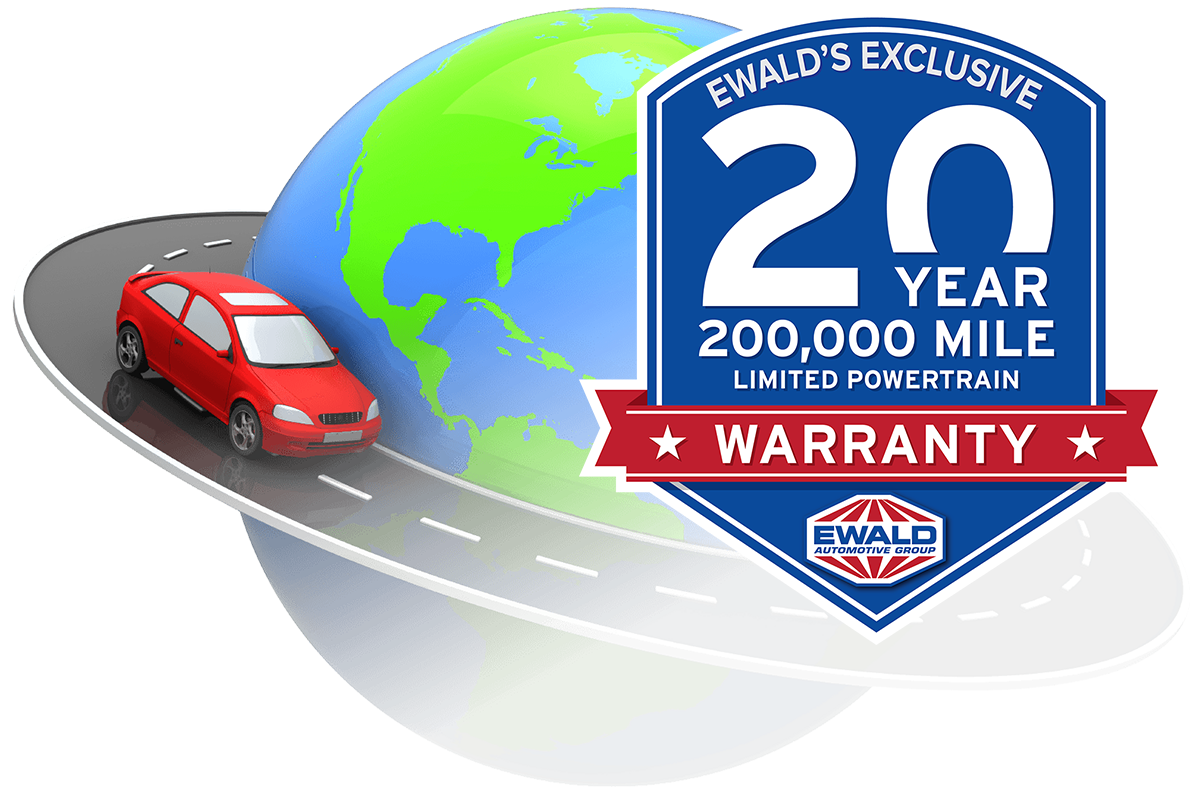 8 TIMES AROUND THE WORLD AND YOU'RE STILL COVERED.
We want you to enjoy total peace-of-mind when purchasing a new vehicle from us. That's why we are including a 20 year/200,000 mile Limited Powertrain Warranty* with all new vehicles... at no cost to you! That's enough coverage to drive around the world 8 times!
Ewald Automotive Group is a name Milwaukee has trusted for over 54 years. Your grandparents, your parents and now you can get the same great service that we pledge to deliver. We guarantee the lowest price on every new car we sell coupled with friendly staff that treats you right, great selection and now unprecedented value with 20 year/200,000 mile Limited Powertrain Warranty coverage for exceptional peace-of-mind. Visit the Ewald dealership nearest you in Franklin, Cudahy, Hartford or Oconomowoc. You will be glad you did!
ENGINE
All Internal Lubricated Parts
Cylinder Heads
Flywheel
Manifold [Exhaust Intake]
Oil Pan
Oil Pump
Seals and Gaskets
Thermostat
Thermostat Housing
Timing Chain Cover
Timing Chain [Gears or Belt]
Turbo Charger [Factory Installed]
Super Charger [Factory Installed]
Vale Covers
Water Pumps
TRANSMISSION
All Internal Parts
Seals and Gaskets
Torque Converter
Transfer Case [Including All Internal Parts]
Transmission Case
FRONT WHEEL DRIVE
Axle Shafts
Bearings
Final Drive Housing [Including All Internal Parts]
Automatic Front Locking Hubs [4WD]
Seals and Gaskets
Universal and Contant Velocity Joints

REAR WHEEL DRIVE

Axle Shafts
Bearings
Drive Axle Housing [Including ALL Internal Parts]
Drive Shaft
Retainers
Seals and Gaskets
Universal and Constant Velocity Joints







FREQUENTLY ASKED QUESTIONS
Who back the warranty? Is it just the dealership?
Our warranty is backed by an "A" rated insurance company and administrator. With a solid foundation behind our warranty, you can enjoy total peace-of-mind!
Do I have to do all of my service at your dealership?
No, our award winning service and tire centers aim to exceed your expectations and know your new vehicle better than anyone, but you are not required to come here. Just keep your service records for all services performed.
How much does the warranty cost?
Zero. We provide this added coverage at no cost to you.
Where am I covered by the warranty?
The warranty is good at any licensed repair shop in the United States or Canada.
Is there any extra maintenance required to maintain the warranty?
No extra maintenance is required. Just follow the Manufacturer's Recommended Maintenance Schedule. Nothing more, nothing less.
Is the warranty transferable if I sell the vehicle?
No. The warranty is only valid for the original purchase of the vehicle.
Is the warranty included on every new vehicle?
The warranty is included on new vehicles in stock except for leased vehicles, fleet, commercial vehicles, electric vehicles and/or modified vehicles.
A copy of the actual warranty and all of its coverages is available anytime at any one of our dealerships. We look forward to answering any other questions you have about t his limited warranty and how we can help you find the right vehicle for your family.
*20/200 limited warranty is on qualified new purchased vehicles only, some restrictions apply, limited warranty is not transferable, excludes leased vehicles, a copy of limited warranty is available see dealer for details.