Get the deal of the year from the Car Dealer of the year!
Get the deal of the year from the Car Dealer of the year!
We are proud to announce that our very own Brian Ewald has received the TIME Dealer of the Year Award. This award is a testament to our commitment to our customers, our staff and our community.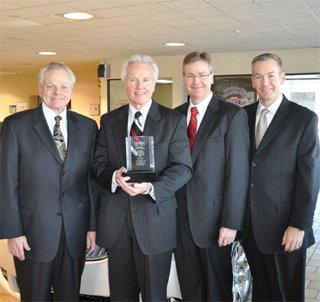 What is the Time Dealer of the year?
The TIME Dealer of the Year Award is the most respected honor a new-car dealer can acquire. Dealers are nominated for the award based on their hard-working ability to have an outstanding performance in their dealerships and making the dealership the best that it can possibly be. Not only are the nominees for this award obtaining tremendous performance in their dealerships they also participate in local community service projects.
Why Brian Ewald?
Not only does Brian Ewald have strong running dealership he also uses his free time to participate as a member and contributor of the Oconomowoc Chamber of Commerce, Oconomowoc Lions, American Legion, the Oconomowoc Rotary, a 32 degree Master Mason and a member of a 163 year old Lodge in Oconomowoc, WI.
One of Brian Ewald's most significant and impactful achievements is his membership with Rotary International. "Rotary's example of honesty, integrity, giving back, service above self and philanthropic support is evident in how I have grown as a person within my community," he says. "The membership of Rotary believes this concept and executes it in all aspects of life. It is extremely rewarding and stimulating to be surrounded with an organization that professes this credo."
He also contributes to the YMCA Strong Kids Program and Century Club. He is a sponsor and contributor for the Wisconsin Harley-Davidson Ridin' to a Cure breast cancer ride. Ewald has also donated to form the Ewald Soccer Field and Ewald Family Pavilion for the Oconomowoc Soccer Association.