Community Relations from Ewald Auto Group supporting many Community functions

Ewald donates more than $100K to community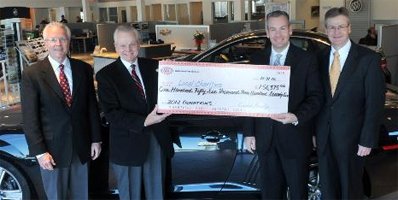 Family company says giving back is a tradition
By Paige Brunclik, Feb. 18, 2013 on LivingLakeCountry.com
Give back. It's a simple concept that is ingrained in Ewald Automotive Group's business practices that has generated significant support for the community. On Friday, Ewald brothers Tom, Craig, Dan and Brian ceremoniously gathered to present $156,375 to 46 area organizations.
The support is diverse and something that leaves a legacy for the business started by their father, Emil Ewald, 49 years ago. In the last two years, Ewald has contributed $366,375 to charitable efforts. While their father could not be there Friday, his sons said the occasion marks a strong tradition the company founder established.
"A very important part of what he, (Emil), instilled in us is it's very important to give back, to put something back" to the communities Ewald is a part of, which spans Lake Country as well as Watertown, Hartford and Metro-Milwaukee area, said Craig Ewald.
"We have targeted donations to charities who will do the very best for people," he added.
The company's culture is to create a constant reciprocal relationship to those who live in the area and support their business. "We draw on the community every day, and we give back every day," said Craig Ewald.
Ewald experienced its fair share of hard knocks during the economic turmoil over the last several years. Craig Ewald explained that in 2007-08 when Chrysler and GM filed for bankruptcy, Ewald chose to go forward with expansion and renovation of the dealerships - and "we never laid off one person," he said.
At that time, it renovated its Franklin dealership, last year completed a complete overhaul of its Chevrolet dealership in Oconomowoc Lake, and also razed a building adjacent to the local dealership expanding to build a Kia dealership that added 45 jobs.
It's about "looking through the windshield and not in the rearview mirror," as Craig Ewald puts it, and it improves the company all the way around.
Tom Ewald further explained that by updating, improving and expanding its facilities, Ewald is improving the customer experience and the experience for those who work there.
"The presentation of this gift to the community today is the culmination of all the effort of our employees too. Without them we wouldn't be able to succeed," Tom Ewald said.
Continuing their drive for success and service, Craig Ewald said the company will continue its program of giving back and is always looking for things to support that will benefit the community. "We're always looking at something that is going to be very beneficial for people. We're interested in helping and supporting quite a diverse mix of things that can mean a lot of people are positively affected," he said.
Ewald Automotive Group Cares
Ewald Automotive Group and all of our employees are proud to support many charities, fraternal and local service groups in the communities we serve. We believe that in order for our company to grow, it is essential that we give back in the areas we can.
| | | |
| --- | --- | --- |
| | Free Masonry | |
| | | |
| | | |
| | | |
| | Girl Scouts of America | |
Local Food Pantries
Local Chambers of Commerce
Milwaukee Chamber of Commerce
Local Churches of All Denominations
Local Schools in Each Community We Serve